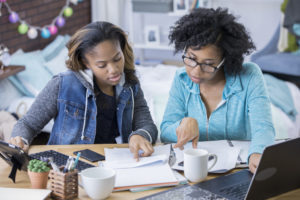 Cost is understandably one of the biggest concerns about higher education. College is a major investment for students and, often, their parents.
College can be expensive, but it doesn't have to be out of reach due to finances. The cost of earning a degree or certificate can vary greatly and often depends on the choices students make, including:
Type of school they attend
Degree they are seeking
Housing and living expenses
As you help your child plan for college, it is a good idea to research and understand all costs associated with specific degree programs and make a plan for how those expenses will be paid.
Admissions and financial aid officers at the college your child is interested in attending can help you determine those costs.
Financial aid and the FAFSA
Don't let the sticker price of a college degree scare you. A majority of students receive some type of financial assistance to help offset higher education expenses.
About 81 percent of undergraduate students qualify for federal and/or state financial aid – including grants, scholarships, work-study, and student loans. The U.S. Department of Higher Education and Missouri Department of Higher Education & Workforce Development award millions of dollars in financial aid each year to students in Missouri.
To qualify for most financial aid, students – and often their parents – must complete the FAFSA or Free Application for Federal Student Aid. Explore the financial aid process at studentaid.gov before you get started. The FAFSA is available each year on Oct. 1 for the following academic year. It uses tax information from two years prior, so you should already have the information you need. Students should file as soon as possible each year to get the most financial aid available to them. 
Student loans
Many parents worry about student loan debt and the impact it could have on their child's future. Students who take out loans to pay for college should borrow only what they absolutely need and understand that it will have to be paid back, even if they don't graduate.
Before taking out a student loan, students should consider the potential income they could earn with the degree they are seeking and determine how much they can afford to borrow and repay. Have your student utilize the Federal Student Aid Loan Simulator to get a better understanding of the impacts of borrowing. 
Keeping costs under control
Students can help keep college costs under control by:
Earning college credit during high school by taking dual credit and AP classes during high school.
Searching and applying for scholarships every year they are in college.
Working 10 to 20 hours a week, if possible, during the school year and more during the summer.
"Living like a college student" while in college and following a budget to manage day-to-day expenses.
Making a plan to graduate on time by completing an average of 15 or more credit hours a semester and earn an associate degree in two years or a bachelor's degree in four  years.
Missouri Treasurer's Financial Literacy Portal
The Missouri State Treasurer's Office has developed a portal that can help you and your student better understand finances and get on the road to financial success. Learn how to pay for education, navigate the costs that arise during the process, and how to handle student loans. You can also use this portal to navigate your own financial milestones like planning for retirement and understanding credit. Visit treasurer.mo.gov/financial-literacy to get started
MOST 529 program
You can set aside money to help pay your child's education by participating in the MOST 529 program, a state-sponsored college savings plan that offers tax advantages. The money can be used for tuition, certain housing expenses, books, supplies, and other qualifying college-related expenses. Find out more at Missourimost.org.
Return on investment
It is important to remember that college is an investment in the future. Students who earn a degree or certificate earn more money over their lifetime, are less likely to be unemployed, and experience greater job satisfaction. In fact, 2019 data from the Federal Reserve Bank of New York says those who earn a bachelor's degree earn an average $33,000 more per year than those with only a high school diploma.