Many Missouri high schools host Decision Day events to celebrate their seniors' plans for the future.  
Decision Day is held each year on or near May 1 – the day most colleges and universities ask that you notify them of your plans to enroll for the fall semester. It's okay if you aren't ready to make this decision yet. Talk to your parents, school counselor, teachers, and other trustworthy adults in your life to look at all of your options and complete steps to making a decision before fall. Some students may choose to enter an apprenticeship or work-based learning program, go to trade or technical school, attend a community college or university. What's most important is that you make the best decision for you!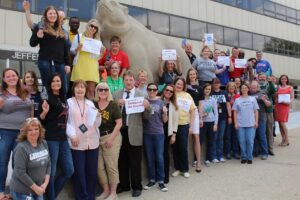 Even if your school isn't participating in Decision Day, you can join the celebration by posting your plans on Instagram, Facebook or Twitter using #MODecisionDay, #IDecided, or #Classof2022. Print off the "I Decided" sign and fill in your school or the path you've chosen and post it online. You can also create your own sign or wear or display swag from your school in your online announcement. 
If you decide to attend college, be sure to complete any requirements necessary to officially enroll by the school's deadline. As you finalize plans, be sure you've completed the Free Application for Federal Student Aid (FAFSA) to learn about student financial aid to help you pay for college.
If you filed your FAFSA, but haven't received financial aid information back from the colleges you listed on your form, contact the schools' financial aid offices. Use the financial aid offers to make a better informed decision on where to enroll.
If you haven't applied to college or been admitted, it's not too late. Contact your school counselor and get started today! Many colleges have extended their enrollment dates and are ready and willing to help you finalize your plans. 
Use this summer checklist to stay on track before heading to college in the fall.