One of the best ways to prepare for college and a career is to take challenging courses during high school.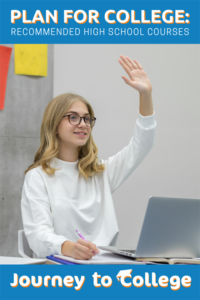 The Missouri Department of Higher Education & Workforce Development and many of the state's colleges and universities recommend the following high school course work:
English/language arts — 4 units
Social studies — 3 units
Mathematics — 4 units*
Science — 3 units
Fine arts — 1 unit
Physical education — 1 unit
Health education — 0.5 unit
Personal finance — 0.5 unit
Electives — 7 units**
Be sure to check the specific admissions requirements of colleges you are interested in attending to make sure you earn the credits you need. Meet with your school counselor to make sure you are taking classes that will help you achieve your college and career goals.
*The Department of Elementary and Secondary Education currently requires three units of math for high school graduation; however students who take a fourth year of math are often more successful in completing college-level math courses.
**Two units of a single foreign language are strongly recommended for college-bound students.