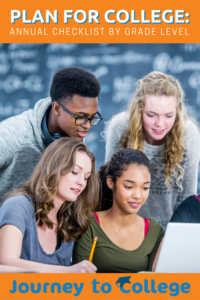 Many jobs today require some form of education beyond high school. There are many things you can do during middle school and high school that will help you prepare for college and a career.
Middle school and junior high
Choices you make in middle school and junior high can help you succeed in high school and college. Establishing good habits as early as you can is one of the most important things you can do.
Develop study skills.
Spend time reading.
Pay attention in class.
Learn how to manage your time to accomplish your goals.
Discover your interests by taking challenging and interesting classes, pursuing hobbies, and attending summer camps.
Talk to adults about their careers and the type of education they have.
9th grade
Being the best student you can be will help you get into college and succeed once you are there. Low grades will negatively affect your grade point average, which could limit your options for higher education and scholarship eligibility. Working hard now will pay off in the end.
Complete all classwork on time.
Get involved in activities and organizations.
Practice good citizenship.
Ask for help when you need it.
Take challenging courses.
Start a resume – include your honors, awards, extracurricular activities and volunteer work.
Develop a budget using allowance or money received as gifts.
Start saving for college, even if it is only a small amount of money – every little bit helps.
10th grade
Make the most of your time in school by learning as much as you can. Look ahead and start making plans for the future. What you do now will have an impact on the opportunities available to you after you graduate from high school.
Make your grades a top priority.
Participate in the A+ Scholarship program if offered at your school.
Research careers and determine the type of degree you need for specific professions that interest you.
Take opportunities to serve in leadership roles.
Talk to your counselor about possible career paths, college admissions, and grant and scholarship requirements.
Discuss college and how to pay for it with your parents.
Create a resume and keep it updated with your school, community activities, work experience, hobbies, and awards and recognition.
11th grade
Start focusing on your future after high school. Determine several careers that might interest you. Consider your options for continuing your education beyond high school. Your grades and citizenship are important factors as you begin to seek out scholarships and prepare to apply to college.
Meet with your school counselor to make sure you are taking classes that prepare you for college and meet admissions requirements.
Take dual credit or Advanced Placement classes to earn college credit while in high school.
Volunteer in your community.
Research job outlooks and potential earnings for your top career choices.
Job shadow professionals in your community.
Go on college visits.
Seek out information about applying for grants and scholarships.
Attend college fairs and college-preparation presentations in your area.
Take the ACT and/or SAT test.
Visit college websites or contact colleges to request information and ask about admission requirements, financial aid, and deadlines.
12th grade
Your senior year is a time to celebrate. It also is a time to finalize your after-graduation plans. Work hard all the way to graduation, and stay involved in activities as you near the end of your high school career.
Stay on track academically to graduate with the highest grade point average possible.
Attend college fairs and financial aid events in your area.
Apply to colleges early in your senior year.
Participate in Apply Missouri events if offered at your school.
Take the ACT and/or SAT or retake it to improve your score.
Sign up for an FSA ID and file your FAFSA as soon as possible after Oct. 1 to apply for financial aid.
Attend a FAFSA Frenzy event in your area if you need help filling out the FAFSA.
Research and apply for college, local, and private scholarships.
Compare degree programs, costs, and financial aid offers (award letters) before making a decision on where you will attend college.
Develop a financial plan to pay for college.
Decide on a college and inform the admissions office by May 1 of your intent to enroll.
Participate in Decision Day events, if offered at your school.
Plan for college orientation, transportation, and housing.
Follow up with the financial aid and admissions offices to ensure all your paperwork is complete.
Get a part-time job to help pay for books and other college-related expenses.
Enroll in 15 or more credit hours a semester to put you on the track to graduate from college on time.