Having a strong support system is crucial for college students. Over four years, they have to deal with the pressure of keeping up with tougher curriculum and forming new study habits, all the while balancing new friendships and maintaining old ones, joining new organizations and activities, staying in touch with family, and possibly working at a new job. Nonetheless, it is exhausting. All the more reason they should have an army of support behind them to cope with stress, anxiety and depression.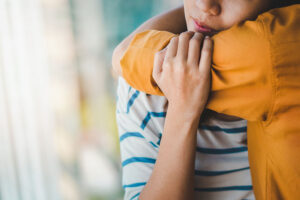 Family members, close friends, classmates, professors, teaching assistants, counselors and advisors all provide help and resources in their own way, making the college transition and overall experience much smoother and easier for students. Parents, however, may have the biggest supporter role of all. From early on in the college decision-making process, parents should serve as a guiding light for their child as they make decisions that could affect the next four years of their lives. Which college is best for them, and how do you know? What kind of financial aid do they need? Are they applying for scholarships, grants and loans?
Once a student heads off to college, these questions could shift to ones about mental health concerns and what kind of support parents should provide their kids while they are going to school.
The statistics around college students and mental health are alarming. According to a 2021 Healthy Minds Network study of college student mental health, 34 percent of respondents had anxiety disorder and 41 percent reported depression. Furthermore, a study from Boston University found that from 2013 to 2021, rates of depression among college students increased by 135% and rates of anxiety increased by 110 percent. The pressure college students face daily is real, and some are struggling to keep up. Parents should be aware and alert of changes in their child's attitude and behaviors, which can inform just how much support the child may need at a given moment.
Facing Challenges Head-On
With rising concerns around college and mental health, how can you be supportive of your college student without being overbearing? When is the best time to approach them and offer your help? What do you do if they don't want to listen to you or take your advice? These are all great questions to ask yourself if you find that your child is facing a challenging time on campus. Marcia Morris, M.D., writes for the National Alliance on Mental Illness that you should remember the five T's: Tell, Test, Teach, Talk, Take Action.
Tell your child that they can come to you with any problem. Some children may fear what you may say in response to their issue, or feel like they are burdening you with their problems. Remind them that you are always there for them and are always ready to lend an ear to listen.
Test their academic health by checking their end-of-semester grades. Students who are doing poorly and failing in school may be suffering from anxiety or depression, and unfortunately, they may think they are on their own in figuring out their school problems. Work to stay abreast of their academic standing throughout the semester, and encourage them to use on-campus resources and seek guidance from their advisors and counselors.
Teach them how to recognize depression and anxiety. Remember those stats referenced earlier in this post? One in 3 students have reported having an anxiety disorder, and 4 in 10 have reported depression. Teach your child to identify warning signs such as excessive worrying, overuse of substances like drugs or alcohol, inability to carry out daily activities, and thoughts of suicide. Anxiety and depression are treatable conditions. Your child has the ability to recognize how they are doing.
Whether they give off stress or not, Talk with them frequently through phone calls, texts, or video calls. Or better yet, pay them a visit at their school, especially if you know they have been feeling down. (It is also important to plan a weekend visit at least once during the first semester of their freshman year.)
Finally, Take Action if your child is experiencing severe symptoms of mental illness, such as suicidal thoughts. Help them find treatment immediately and guide them to stay actively involved in their treatment. If you have an immediate cause for concern about their safety, contact campus police and mental health services.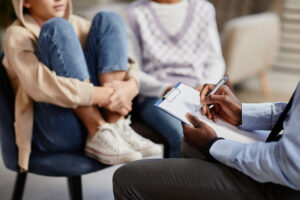 Sarah Curzi, PhD encourages the creation of a "mental health plan" that encourages parents and children to be open to conversations about mental health struggles and concerns, in an effort to destigmatize them. In an article for Collegiate Parent, Curzi says to share contact information for the National Suicide Prevention Lifeline as well as the community mental health resources available at school such as counseling or psychological services, or student health primary care providers. Make sure students understand their student health insurance plan, and what a copay is and what in-network versus out-of-network means. Some may not seek help because of costs, so let them know of what is available to them, including free or sliding scale clinics. Help them identify ways to build community and maintain social contact around them. Most of all, always be available.
Call or Text for Crisis Support
One of the best ways to support your child is to remind them that help is just a call or text away. Mental health support and crisis intervention are always available with the 988 Crisis Line or Crisis Text Linefrom anywhere in the U.S. to speak with a trained crisis counselor via a secure online platform. Through texting, the counselor can help talk through issues, including financial-related stress. 988 is open 24 hours a day, seven days a week.