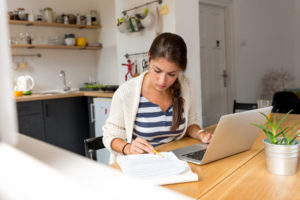 The quickest and easiest way to complete the FAFSA application is online at studentaid.gov. An updated version of the mobile app, myStudentAid App, is also available on Apple and Android devices. 
Filling out a FAFSA is always free and is easier now than it ever has been. The form provides detailed instructions and walks you through step by step, asking only the questions that apply to you. If you need additional help, you can access a real-time, private online chat to speak with a customer service representative.
A paper FAFSA is available if that is the best option for you. You may complete a PDF application or request a paper FAFSA by calling 1-800-433-3243. Both the PDF and paper FAFSAs must be mailed for processing. Learn more at studentaid.gov/apply-for-aid/fafsa/filling-out.
Before you file be sure to:
Determine whether you are a dependent or independent student.
Get your FSA ID in order to sign the FAFSA electronically.
Gather the required documents and information, including your 2020 tax information, your Social Security Number, Driver's License information, date of birth.
For free help completing the FAFSA, attend a FAFSA Frenzy event near you.