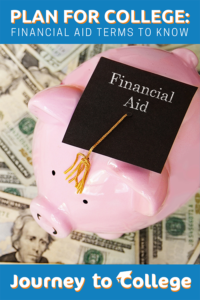 When planning for higher education, you may come across a number of new words and phrases. Understanding these terms can help you navigate the college application and financial aid processes.
Apply Missouri 

A program offered by many high schools across the state to help seniors find the "best fit" for higher education and submit applications to one or more schools they are interested in attending. Click here to see if your school participates in Apply Missouri. 

Award Letter

A document sent to you by a college or career school indicating the type and amount of financial aid you can receive when you accept admission and enroll in classes at the school.

Cost of attendance (COA) 

The total estimated cost to attend a school, usually stated as a yearly amount. This includes tuition and fees, room and board, books, supplies, transportation, and personal expenses.

Decision Day

Events held by high schools throughout the state to recognize seniors for their plans to attend college or enter the military. The events also provide assistance to students who are still considering college or need help finalizing their plans. Click here to see if your school participates in Decision Day.

Deferment

A period of time during which a student, under certain conditions, may postpone payment on student loans. During such a period, interest does not accrue on subsidized loans. Unsubsidized loans continue to accrue interest. Any unpaid interest may be added to the principal balance of the loan.

Default

Failure to repay a loan according to the terms agreed to in the master promissory note. For most federal student loans, you will default if you have not made a payment in more than 270 days. You may experience serious legal consequences if you default on a loan.

Dependent student

A student who does not meet the federal criteria to be considered an independent student and is required to report parental information when applying for federal and state student aid.

Expected Family Contribution (EFC)

A number calculated according to a formula established by federal law that is used to determine your eligibility for financial aid. The formula takes a number of factors into account, including your family's income and assets and the number of family members attending college during the year. It is based on the financial information you provide on the FAFSA. The EFC is reported to you on your Student Aid Report. It is not a bill, nor does it indicate the amount you will owe to the school you plan to attend.

FAFSA

The Free Application for Federal Student Aid is used to determine eligibility for federal student aid, such as federal grants, loans, and work-study, and is often the first step to apply for state and institutional aid. File online at studentaid.gov.

FAFSA Aid Estimator (formerly FAFSA4caster)

An online tool that provides an estimate of your federal student aid eligibility. To determine your estimated eligibility, visit the Aid Estimator.

FAFSA Frenzy

An annual event held throughout Missouri where financial aid professionals and school counselors help students and parents fill out the Free Application for Federal Student Aid. Events are held October through January of each year. Click here to find a location near you.

Federal Direct Loan

A federal student loan in which eligible students and parents borrow directly from the U.S. Department of Education, rather than from private lenders. Direct Subsidized Loans, Direct Unsubsidized Loans, Direct PLUS Loans, and Direct Consolidation Loans are all types of Direct Loans.

Federal Direct PLUS Loan

A federal student loan that requires credit approval and is available to parents of dependent undergraduate students or to graduate or professional students.
Federal Direct Subsidized Loan

A loan based on financial need for which the federal government pays the accruing interest on a borrower's behalf while the borrower is enrolled at least half time, during the grace period (for some borrowers) and during authorized deferment periods.

Federal Direct Unsubsidized Loan

A loan for which the borrower is fully responsible for paying the interest regardless of the loan status. Interest on unsubsidized loans accrues from the date of disbursement and continues throughout the life of the loan. The interest can be paid as it accrues or deferred as long as the borrower is enrolled half time at an eligible higher education institution.

Financial aid office

The office at a college or career school that is responsible for preparing and communicating information on financial aid. This office helps students apply for and receive student loans, grants, scholarships, and other types of financial aid.

Financial aid package

The total amount of financial aid being offered to you by a college or career school. A school's financial aid staff combines various forms of aid into a "package" to help meet your education costs. The amount of aid offered is detailed in your Award Letter.

Financial literacy

The ability to read, analyze, manage, and communicate about personal financial conditions. The term often is used to describe financial education programs on college campuses and at high schools. Financial literacy programs seek to help students better manage their finances, budget effectively and borrow wisely.

Financial need

The difference between the cost of attendance at a school and your Expected Family Contribution. While cost of attendance varies from school to school, your Expected Family Contribution does not change based on the school you attend. The Expected Family Contribution also may be used to determine your eligibility for some Missouri student aid programs.

Forbearance

A period of time during which a borrower is permitted to temporarily stop making payments or reduce the amount of payment due to certain types of financial hardships.

Grace period

A period of time that begins after you graduate, leave school or drop below half-time enrollment during which you are not required to make payments on certain federal student loans. Some student loans will accrue interest during the grace period, which will then be added to the principal balance of the loan when repayment begins.

Grant

Financial aid, often based on financial need, that does not need to be repaid (unless, for example, you withdraw from school and owe a refund).

Independent student

A student who meets one of the following criteria: at least 24 years old, married, a graduate or professional student, a veteran, a member of the armed forces, an orphan, a ward of the court, someone with legal dependents other than a spouse, an emancipated minor or someone who is homeless or at risk of becoming homeless.

Institutional aid

Financial assistance funded by a college or career school. Institutional aid usually consists of grants and/or scholarships, but may also include work-study opportunities and loans.

Interest

The cost of borrowing money. Interest is paid by a borrower to a lender. The expense is calculated as a percentage of the unpaid principal amount of the loan.

Journey to College

The Missouri Department of Higher Education & Workforce Development provides information about preparing for education beyond high school on social media, the Monthly Student Reminder, and free publications. Journey to College programs — Apply Missouri, FAFSA Frenzy and Decision Day — help students plan for higher education and apply for financial aid.

Master Promissory Note

A binding legal document that you must sign when you get a federal student loan. It lists the terms and conditions under which you agree to repay the loan and explains your rights and responsibilities as a borrower. It is important to read and save your Master Promissory Note because you may need to refer to it later.

Missouri student aid

Financial aid programs funded by the state, including scholarships and grants. Some state financial aid programs are needs-based while others are merit-based.

National Student Loan Data System

A centralized database that combines student financial aid records from schools, lenders, and the U.S. Department of Education. nslds.ed.gov

Parent (when applying for financial aid)

Your biological and/or adoptive parents, married or not, regardless if they are the same or opposite sex. Even if you do not live with one or both of your parents, if you are considered a dependent student, you still must report certain information about them to qualify for most federal and state financial aid.

Satisfactory academic progress

A school's standard for satisfactory progress toward a degree or certificate offered by the institution, measured in time and grade point average. Check with your school to find out its standards.

Scholarship

Money awarded to students based on academic or other achievements to help pay for education expenses. Scholarships generally do not have to be repaid.

Student Aid Report (SAR)

A summary of the information you submitted on your FAFSA. You receive this report via email a few days after your FAFSA has been processed or by mail within 7–10 days. Your SAR contains your Expected Family Contribution and results of federal financial aid database matches.