College is a time for students to grow and learn, as well as gain and maintain independence. However,  in between managing tough class schedules, keeping up with the curriculum, making new friends, getting involved in on-campus activities and adjusting to a new way of life, it is undeniable that college students are subjected to an incredible amount of stress. Add in worries about money and paying for tuition and fees, then this stress can reach a tipping point.
Tuition varies by college, but an annual survey by U.S. News & World Report found that the average cost of tuition and fees for the 2021-2022 school year (for schools ranked as a National University) is $43,775 at private colleges, $28,238 for out-of-state students at public schools, and $11,631 for state residents at public colleges. Other college costs vary by school and include room and board, books, and supplies.
College can be expensive. Tuition woes can place a huge burden on families and students. The more stress a student experiences, the less likely they will succeed academically. Educate your child now about financial responsibility and how to handle their money in order to set them up for success in the future.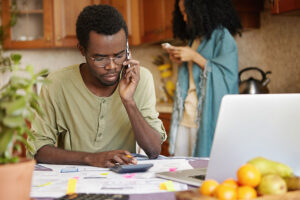 The best way your child can learn about financial responsibility is to create an open dialogue with them about money and remain transparent. According to a study from the University of Georgia, discussing money with your child can help alleviate financial stress and anxiety later on. "Across the board, students whose families talked openly about money—specifically investing—reported feeling less stress and higher optimism when it came to money management and their future finances," the study reported.
The study also found disparities with students of color and how they are having fewer conversations about finances with their parents: "African American students reported receiving significantly fewer messages about saving and banking, while Hispanic students received fewer messages about investing when compared with other racial/ethnic groups. This finding provides key insight on how families and schools can approach conversations about money."
There are many types of college aid available for students, but a good place to start is the Free Application for Federal Student Aid (FAFSA). The FAFSA offers access to federal financial aid such as Pell Grants, Work-Study and student loans; state financial aid; financial aid from colleges, universities and other post-secondary schools; and some private scholarships and grants.
The FAFSA should be filled out every year a student plans to attend college.
Specifically in the Show Me State, grants and scholarships administered by the Missouri Department of Higher Education & Workforce Development are available, such as:
In addition to the online tools and guides provided by the Missouri Department of Higher Education & Workforce Development, the U.S. Department of Education offers checklists for every stage of a student's education — from elementary school through grad school, and even checklists for adult students — detailing financial resources to help prepare for college. Managing money responsibly and living like a college student will save students stress and worry later.
Effects on your Mental Health
The college experience can impact mental health in both positive and negative ways. Beyond a degree, there are many benefits to college. Students can network, build confidence and self-awareness, and gain important social-emotional health skills. Financially, they learn the value of generational wealth building and have an advantage with overall lifetime financial earnings and stability.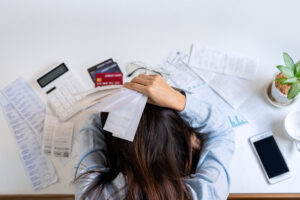 Financial stress around college can also impact mental health in negative ways, for a short period of time or more long-term. BestColleges.com outlines how this happens:
Due to the rising costs of college, high schoolers are rethinking their post-secondary education future. In a 2022 survey by Citizens Financial Group and Junior Achievement, nearly 70 percent of the teen respondents said rising tuition costs altered their college plans.
Although the earned money offsets some college costs, working while attending classes can be exhausting for some students.
Meeting basic needs such as securing housing and affording food may be a struggle for some students.
First-generation college students — those whose families lack a college-going tradition — likely have more financial anxiety around college expenses.
More than 60 percent of graduates with student loan debt said it's negatively affected their mental health, according to CNBC. With this, more students are putting off other financial goals such as buying a home.
In a 2017 Community Mental Health Journal study of British students, learners who struggled to pay their bills reported higher levels of depression, anxiety, and alcohol dependence. In turn, students with poorer mental health and greater alcohol dependence had difficulty paying bills.
Remember, help is just a call or text away. Call or text 988 – the national behavioral health crisis line – from anywhere in the U.S. to speak with a trained mental health provider via a secure online platform. They can help with issues such as depression, anxiety, eating disorders, self-harm, and suicide. The Crisis Text Line is open 24 hours a day, seven days a week.