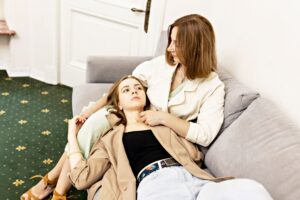 Change is inevitable when a student goes off to college. Students who have gone away have to adapt to a new place to live, new friends and teachers, new learning environments, and new challenges that come with this next phase in their lives. Parents have to adapt to new ways to give their support and be there for their student. One thing that remains the same, however, is the need for both sides to communicate how they are doing and feeling during these times.
It is likely that your student will experience some level of stress during their time in college, but there are variations in how serious that stress can become. According to Forefront Suicide Prevention, one in three college students experiences a mental health issue, most commonly anxiety or depression. Major life changes such as adjusting to college life and experiencing added academic stress can set the stage for the onset of mental health issues.
Due to these changes, it has become even more important to frequently check in on your student through phone and video calls, text messages, emails, on social media and campus visits. When you reach out via these touch points, keep an eye out for signs of distress, such as these (courtesy of the University of Iowa):
You notice a decline in the quality of their school performance.
You notice a prolonged appearance of depression — they have a sad expression, have experienced a sudden weight gain or loss, or they feel apathetic.
You find they are nervous, agitated, irritated easily, aggressive, and/or they talk non-stop.
They exhibit bizarre behavior or speech.
They have an extreme dependency on family, including exceptionally long or distressing phone calls or visits at home.
There is a change in their personal hygiene.
They indirectly or directly talk of suicide.
You are concerned by things they mention in your conversations.
Your student could exhibit any one of these during their time in college, but if you find one or more instances to be particularly alarming, or that they are lasting longer than you believe is typical, then there could be a more serious problem. Identifying this is easier said than done as these signs can be difficult to recognize.
Opening the Door to Conversation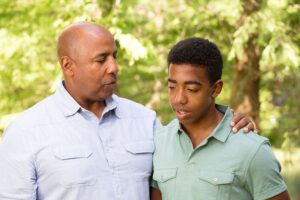 If you believe a larger mental health issue is happening and that it is time to step in, first, determine the urgency of the situation. This will guide your approach to intervening. The University of Iowa shares this guidance about starting the conversation with students who are struggling with their mental health:
Listen to your student and try to be nonjudgmental and uncritical.
Spend time with them, if possible, and show that you are there for them and present.
Let them know directly that you care and are willing to listen.
Let them know you understand their problem. Be encouraging and hopeful that it will eventually resolve and that they will eventually feel better.
Do not try to help them solve the problem until you have taken the time to listen.
Ask them what they think might help before you offer your own solutions. If you do not feel their safety is being compromised, encourage them to try out their own solutions before they try yours.
Share similar experiences or feelings but do not make the conversation about you.
Reassure them that you will respect their privacy but avoid total secrecy in case you need to reveal something to keep them safe.
Help them understand there are limits to your support and expertise and remind them they can speak to a professional if the help they need is more than what you can provide.
Remind them that it is a sign of maturity to seek help when it is needed.
If you are concerned for their safety, ask, "Are you thinking about suicide?" rather than, "You aren't thinking of suicide, are you?"
Recommend, but do not insist, they seek professional help, unless the situation is urgent.
Continuously follow up with them and keep your line of communication always open.
On-campus support is vital to mental health wellness. Check in with your student's college or university about the mental health resources they provide.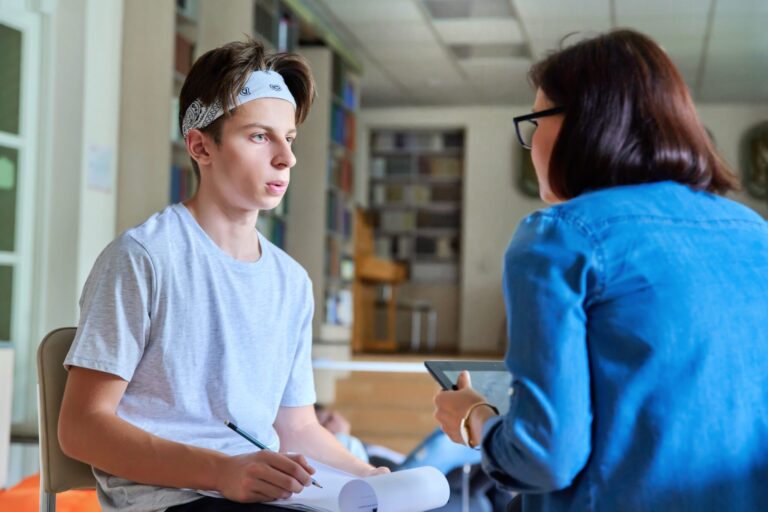 What services are available to support students with mental health concerns? 
Do counselors include people of color, including those who are Black and Indigenous?
Who should family members contact if they believe their student is struggling?
Are faculty members supportive of students living with mental health concerns?
What resources are available if a student mental health crisis occurs after hours?
 The University of Iowa provides additional steps to take if you believe it is time for on-campus counseling. Make your recommendation to your student in a matter-of-fact manner, and make it clear that this decision represents your best judgment based on your observations and the information you have gathered, as well as your life experiences. Point out the specific behavior that has raised your concerns. Except in cases of emergency, students must have the option to accept or refuse counseling. If there is reluctance on their end, accept their feelings and give them room to consider alternatives and suggest that they give it some time to think it over.
If counseling is decided upon, work with them to make their appointments and offer to accompany them or suggest they bring a friend along. In emergency situations, you can bring the student directly to counseling services.
Help is always available. Call or text 988 – the national behavioral health crisis line- from anywhere in the U.S. to speak with a trained mental health provider via a secure online platform. They can help talk through issues such as depression, anxiety, eating disorders, self-harm, and suicide. The Crisis Text Line is open 24 hours a day, seven days a week.