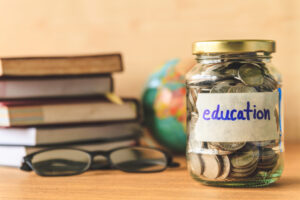 Every year, the U.S. Department of Education gives roughly $120 billion in federal loans, grants, and work-study funds to more than 13 million college students. These funds are awarded only to those who file a Free Application for Federal Student Aid (FAFSA).
By not submitting a FAFSA, students are leaving billions of dollars on the table, and are missing out on a pretty great deal. Federal loans have low interest rates, federal grants don't need to be repaid, and work-study programs are a great way to pay for college while building your resume. And about 90 percent of high school seniors who submit a FAFSA enroll in college the following fall semester, whereas only about half of the high school seniors who do not submit the form end up enrolling in the fall. Filing a FAFSA to see what financial aid you qualify for could be the deciding factor.
The point is, there is NO reason you shouldn't submit a FAFSA, and countless good reasons why you SHOULD. Here are five:  
More than just a loan
While most students submit a FAFSA as a way of securing a low-interest loan from the federal government, filing a FAFSA is also the only way to become eligible for certain types of aid that don't need to be paid back. Every year, millions of dollars in grants and scholarships from states and universities are distributed based on financial need, and the only way to qualify for this aid is by submitting a FAFSA.
Most students qualify
You may qualify for free aid, like the Pell grant, or Access Missouri grant, but you won't know unless you file. Anyone with a household income below $250,000 is eligible to receive some form of federal aid, as long as they submit a FAFSA. While only 5 percent of U.S. households make too much money to qualify for federal aid, more than 40 percent of high school seniors fail to file a FAFSA.
Federal loans are easier to pay off than private loans
Some students, instead of filing a FAFSA, choose to borrow money from private lenders such as banks, credit unions, state agencies, and even schools. However, there are many benefits to choosing a federal student loan over a private student loan.
The first is interest rates. In most cases, the interest rate on Federal loans is lower than those of private loans. The federal interest rate is also fixed and won't change, whereas private loans can have variable interest rates, which are harder to predict.
Payments on Federal loans aren't due until six months after you graduate or leave college, so you'll have a grace period to land on your feet before your first payment is due. However, many private lenders require students to start making payments while they are still finishing school. Federal loans can also be deferred or put in a forbearance period if you are experiencing certain hardships, like a job loss or medical issue.  
It's free to submit
It costs nothing to file a FAFSA, and you won't be required to accept any aid you are offered. High schools across Missouri host FAFSA Frenzy events, where students can receive free help filling out their FAFSA. The FAFSA is easier now than it has ever been, with more simplified questions coming in the next few years.
Your financial situation could change
Unexpected crises, such as a global pandemic, create financial difficulties. One day, you could have a complex spreadsheet, mapping out exactly how you plan to pay for every one of your expenses; the next day, something bad happens – your income level changes, your employer goes out of business, a family member has a medical emergency, etc. – and your entire plan is sent into a tailspin. When special circumstances arise, you can appeal to your college's financial aid office for additional assistance. Filing the FAFSA gives them a starting point to understand your financial situation. If things have changed, colleges can often use what's called "professional judgment" to help you overcome new financial challenges and help get you back on your feet.