Esports has been viewed by many as the awkward younger sibling to the sports that we know and love like football and baseball. However, the esports army is arriving, and they are only getting stronger. The first official video game competition took place in 1972 on the Stanford University campus with a game called Spacewar. The grand prize of that competition was a year-long subscription to Rolling Stone magazine.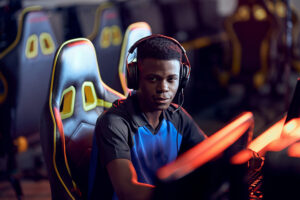 In 1990, Nintendo began the Nintendo World Championships in which players competed in games like Super Mario Bros and Tetris. Fast forward to 2021, when a game called DOTA 2 hosted its championship with a prize pool of $40.1 Million, nearly triple the prize pool for the Masters Golf Tournament.
All of this shows how far this movement has come. From a subscription to a magazine to $40 million, and it continues to grow. Competitive gaming has grown so much that people like Robert Kraft, Shaquille O'Neal, Drake, Mike Tyson, and P Diddy, just to name a few, are investing. Along with these well-known figures, colleges have begun to take an interest in the subject, and many have made large investments in their esports programs. Robert Morris University in Chicago was the first to offer esports scholarships back in 2014. With the global esports market valued at $1.2 Billion in 2019, several other colleges have followed in its footsteps. As of May 2021, 175 colleges around the country offer esports scholarships. Missouri has over 15 schools that offer scholarship opportunities in this field.
How Can I Get an Esports Scholarship?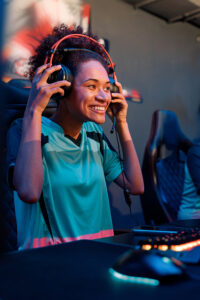 Getting an esports scholarship for college is slightly different than getting a scholarship for other sports. Esports programs don't typically have scouts attend events and watch you play or even reach out to you. Most colleges host annual tryouts and give out scholarships based on those. Esports competitions are almost always livestreamed somewhere online, so a good idea would be to watch one of those and see how you may stack up to the competition. These scholarships don't come without stipulations, though. There is almost always a GPA requirement to even get on the team, much less receive and maintain a scholarship. However, the perks are well worth the hard work in the classroom. Players can receive jerseys, travel opportunities, gear, and media attention, and gain a large social media following. Schools with esports scholarships tend to make it well-known that this opportunity is there for students, especially if the school has made a large investment in the program. So, if you have a school in mind, check to see if they offer esports scholarships and what that college's specific requirements are!
Are These Scholarships the Same as Other Athletic Scholarships?
The short answer is it depends. It depends on the school and how much money that school has put toward its esports program. Typically, your scholarship will work more like an academic scholarship since there aren't many full-ride esports scholarship opportunities out there…yet. That means you will receive money from the college that you can use any way you see fit as long as it is used for college. So, funds could be used for on-campus food, tuition, books, and more.
What is the Outlook for Esports in College?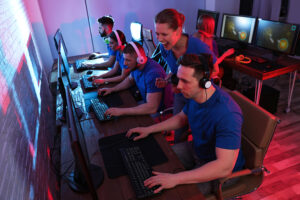 The outlook is only positive! The global esports market is projected to rise from $1.1 billion in 2020 to $3.6 billion in 2027. How does this translate to college scholarship opportunities, though? With many major universities and smaller colleges investing already, it's safe to say that if esports continues to see the growth that it has in the past, more colleges will take notice. If the market value of esports does hit the $3.6 billion projection, it would be nearly nine times more valuable than the men's and women's college basketball tournaments combined. And if esports were a sports franchise, it would make it the 15th most valuable franchise in the world. Statistics like this will certainly attract more attention to the scene and likely bigger financial contributions from universities around the country. With bigger financial input from schools, students will be able to receive more from their scholarships, along with schools being able to expand their programs and offer more spots for students on these teams leading to more scholarships. After all of this, you may still wonder, what are students gaining out of this past college? Well, just like other professional sports, there is a professional esports scene where gamers around the world are making millions in this industry. Students can gain scholarship money through their schools and take that talent to the next level.
Collegiate Esports Opportunities in Missouri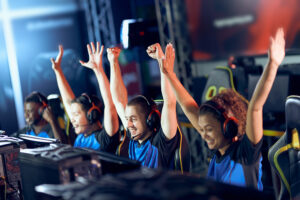 With over 20 college and university esports programs in Missouri, there are plenty of options. Each program offers a unique array of titles that they compete in, so it's important to do your research beforehand. This article has discussed how to go about receiving a scholarship, if your chosen school offers it, how these scholarships work, and the outlook of esports in college. However, as mentioned, each institution is different. It's important to note that esports opportunities aren't limited to playing on a team. There are several classes you could take to gear you up for a career in esports once you graduate. Some colleges offer esport-specific classes. For others, you need to get a bit more creative. Classes on information technology, live event entertainment, team management, and sports marketing are all great ways to get a step ahead of your competition. The best method, however, is to talk to your counselor. They are a fantastic help and will be able to guide you down the best path toward your goals!
Some schools that have esports programs are the University of Missouri, the University of Missouri-St. Louis (UMSL), the University of Missouri-Kansas City (UMKC), Columbia College, Missouri S&T, Missouri Western, Northwest Missouri State, Maryville University, University of Central Missouri, Southeast Missouri State, Missouri Baptist University, and Mineral Area Community College. (Note: There are more options out there in Missouri, these are just a few!)
Overall, esports is on the rise, and collegiate esports is important to growing the industry. Kids can take something they truly enjoy and make a career out of it that has endless possibilities. There are many more professional gaming opportunities than there are in other professional sports, but the road to get there is just as challenging. Competing in these games at the highest level takes years of practice and hard work, and finally, all that hard work and all the late nights playing video games is paying off. Literally.